The pandemic caused a vast number of changes to how we all interact and do business with one another.
At the time of so many drastic changes, your website was probably NOT your top priority.
During this strange time, we have discovered 7 things that EVERY service business website now needs in a post-pandemic world.

That's right, having a COVID POLICY on your website is now becoming almost as expected as having your phone number or address listed.

Read on to learn why so many people now expect every service business to have a COVID policy, and what questions to answer in that policy so you don't lose business.
Covid Policy
The pandemic means different things to different people. Some people are willing to walk in and out of public places with masks off, whereas others are paralyzed in fear of leaving their homes.
Previously it was common for businesses to list information such as an address, hours, and phone number on their website. However, it is also almost as important now in a post-pandemic world to also list your Covid Policy.
This is just your company's stance and policies on keeping everyone safe – and even just noting the fact that you are open for business.
Have you been deemed an "Essential" business in your state?
Do you require masks in your office?
Have you taken extra cleaning measures?
This page should answer these common questions many of your customers probably have floating around their heads, but many of which might not ask.
1. A Website Banner – Make it front and center
Just having the information is a great start. But it is equally important to make the information front and center on your website. If people have to look for it, you might have already lost them to a competitor.
The best way we've found to do this for customers is to create a banner in the header or footer that alerts visitors of your Covid Policy.
Here are a few examples of these banners in action on our customers' websites.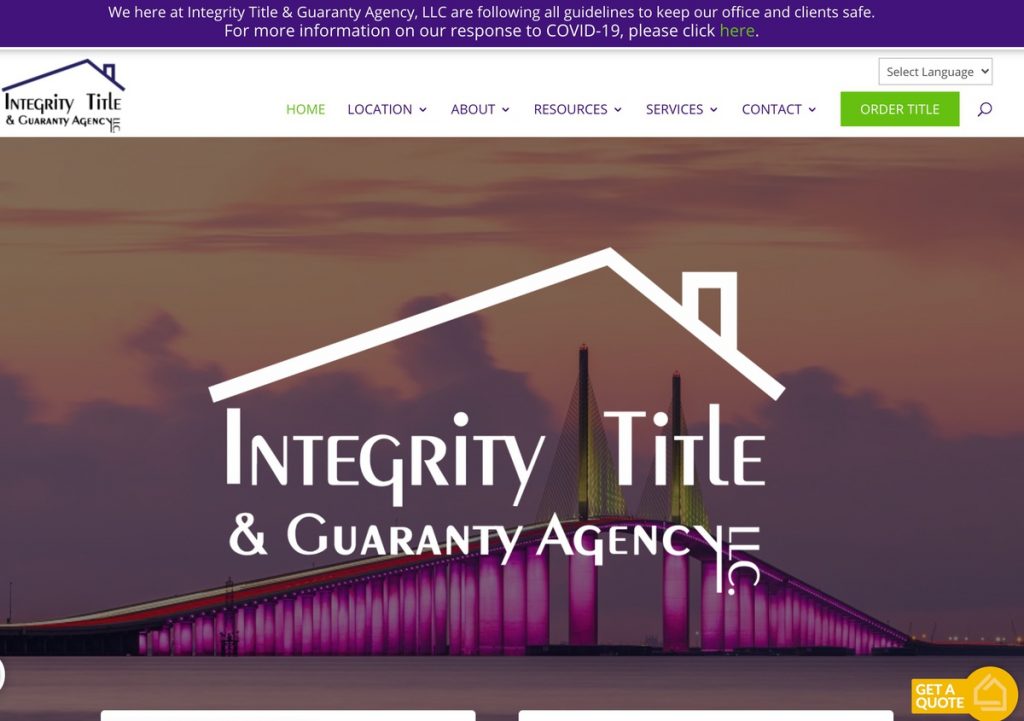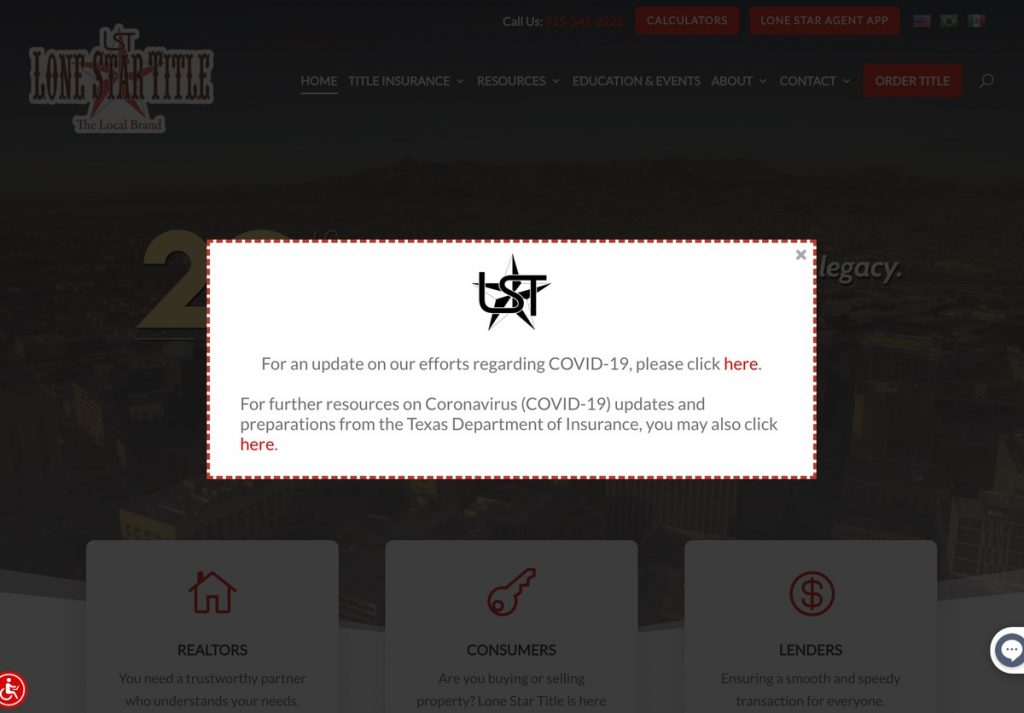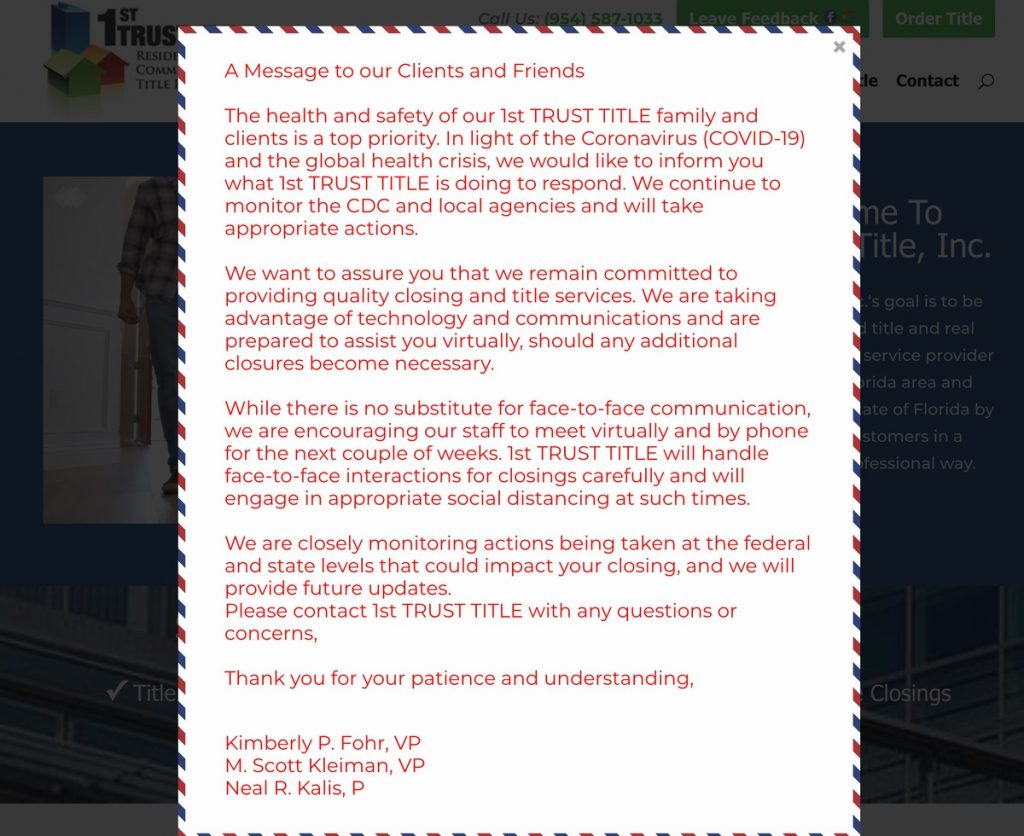 Other items to consider in your Covid Policy
2. Do it Remotely – Zoom Consultations & Remote Closings
Do you offer remote consultations and meetings now? Do you have an option for a remote closing?
Many attorneys and title agents do but forget to make it public knowledge.
Just listing this as an option on your website might be the difference between someone calling you and calling one of your competitors.
So, if you can do it remotely, be sure to let people know.
3. Contactless Options – No Touch, No Problem
Do you now offer remote, drive-through, or no-contact closings?
If so, be sure to include this in your Covid Policy along with a breakdown of how the process would work.
Having this option can ease the minds of many worried or high-risk customers – especially if going fully remote isn't an option in your state.
This alone could be the deal maker to use your services over a competitor.
4. Mask & Sick Policy – Masks required? Fever checks?
Do you require masks? Do you do daily fever checks?
Answering these questions can not only attract the right customers. It can also give the customers who don't mind either way predictability about what to expect by using your services.
Also, does this apply to staff only or staff and customers?
5. Online Payments –  Earnest Money? Invoices?
One major shift we've seen this year is the demand for online payment or contactless options.
That said if you can accept online payments for services, invoices or earnest money, be sure to list that.
Some examples might be:
Earnest money deposits
Mobile Apps to scan checks
Online invoice payments
Wire funds
ACH
Again just listing the options might help you win business. Plus this is another safeguard you can take to keep your customers and staff safe, healthy, and happy.
6. Sanitization Precautions – How are you making it safe?
If you commonly do in-person closings or consultations, what safeguards do you take?
Do you sanitize conference rooms between meetings?
Do you have only minimal office staff to limit contact?
Fever checks daily?
Do you provide single-use pens?
Do you offer car-side service?
7. Remote Online Notary (RON) & E-Signatures
RON, or remote online notary, has seen tremendous growth in many states as a result of the need for remote closings.
Also, as part of the closing processor for a legal contract, signatures will be required in most instances.
Be sure to note that you do have an e-signature option if applicable.
You may need to explain to someone why they cannot just slap a digital signature on a document and send it back.
If you require wet signatures for certain types of documents, be sure to list why and the process for doing so. Listing why lets people know that you recognize that most things can be e-signed these days, but in your location, they cannot.
What differentiates you?
It is true that the pandemic has created challenges for many businesses. But it has also created some opportunities for those who notice them.
One of those opportunities is to clearly list this information in a Covid Policy.
Even though many businesses offer these sorts of things now, I guarantee that many of those businesses are forgetting to mention it on their website.
In a business where you are always looking to appear unique over your competitors, this is a clear differentiator between you and the law office or title company down the street.
So, what's in your Covid Policy?
Need help with your website? TitleTap not only makes the process of building and managing a website easy and affordable for title companies and law firms, but we also have industry-specific content to get you started and help you rank higher in search engines. Request a free consultation today to learn more.